AZ BOBCATS COMPETE!
The ARIZONA BOBCATS ARE THE 16U DIXON CUP CHAMPIONS FOR THE 2017/18 SEASON!
Arizona Bobcats 16U and Esmark 18U win 2018 Dixon Cup Championships
February 19, 2018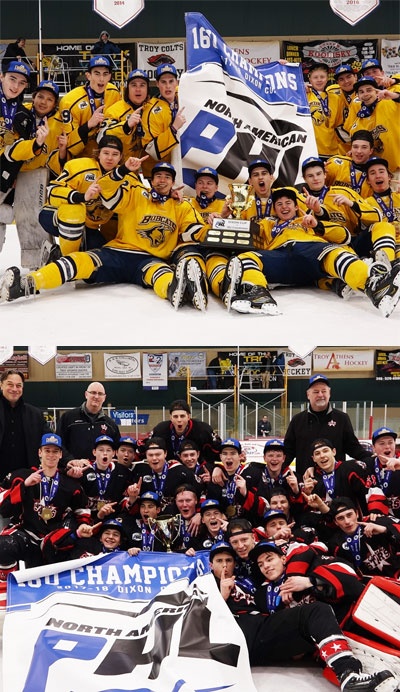 The Arizona Bobcats (top) won the 16U NAPHL Dixon Cup Championship, while the Esmark Stars (bottom) took home the 18U NAPHL Dixon Cup Championship on Monday.
16U Dixon Cup Championship Game: Arizona Bobcats 3 vs. Meijer AAA 2 (SO)
– In a very even game, which featured great goaltending and back and forth action, the Arizona Bobcats captured their first-ever NAPHL Dixon Cup Championship, thanks to a 3-2 shootout win over Meijer AAA. After a scoreless 1st period, which featured both goalies shining, the scoring didn't open up until late in the 2nd period as Arizona opened the scoring thanks to forward Aidan Carney. Just over two minutes later, Meijer AAA tied the game thanks to a goal from Joey Hildebrand. Arizona forward Carson Kuche gave the Bobcats back the lead midway through the period on a rebound goal, but Meijer again had an answer as Anthony Davis scored his 2nd goal of the event. After two scoreless, five-minute overtimes, the Bobcats netted the only goal of the shootout as Skylar Miller scored and Bobcats goalie Anthony Bonaldi shut the door on three Meijer shooters. Bonaldi made 31 saves in the win, and Meijer goalie Michael Morelli made 31 saves in the loss.
Boxscore
18U Dixon Cup Championship Game: Esmark Stars 5 vs. Tampa Scorpions 2
– The Esmark Stars picked up their second NAPHL Dixon Cup Championship in organizational history and first in 18U program history as they scored the last three goals of the game to defeat the Tampa Scorpions, 5-2. In an active 1st period, the Scorpions got on the board first as Phillip Vanderlaat opened the scoring with his second goal of the playoffs. Esmark then struck for two quick goals to take a 2-1 lead as Oldrich Virag and Nicholas Carretta scored within less than an a minute of one another. Early in the 2nd period, Colton Sipperley tied the game for Tampa at 2-2. Esmark then seized control of the game as Alex Singley converted on a turnover for the eventual game-winning goal. Virag then scored two goals in the 3rd period to complete a hat-trick to give the Stars the 5-2 win. Nico Pidro made 24 saves in the win, and Marcus Alfaro made 28 saves in the loss.
Boxscore